Services
STRATEGY
"Nothing is as constant as change"Heraclitus of Ephesus (540 - 480 BC)
Businesses operate in the context of accelerating change. We assist companies and organizations in the process of their strategy development and customer orientation. For this purpose we use state of the art tools and the creativity resulting from successful group dynamics. For SMEs and start-up companies, we offer attractive packages for strategy finding, development and implementation.
PROJECT MANAGEMENT / PROJECT RESOURCES /
INTERIM MANAGEMENT
Project management for customer-oriented business development as well as sustainable process and business optimization are our core competence. We offer certified senior project management quality, combined with expert know-how and vast experience in our fields of expertise. We have many years of experience in implementing optimization projects in corporations with international subsidiaries.
We also offer a project manager proxy service to relieve the line manager as project manager. We provide project resources - also short term - with various skills and competences available. Assignements implying profound changes (restructuring, post-merger integration, start up), we also take over as interim management.
CHANGE MANAGEMENT
Projects for process optimization and business development must be supported by the organization and the stakeholders if they are to be sustainable. We are experts in systemic change management. With our focus on social and context competence, we build efficient project teams and inspire the organization with the Big Project Picture.
Download our top business model transformation tool – the 3d business model transformation workbench
Radius of action
worldwide
with high intercultural competence
numerous working languages
Expertise
We have specific expertise in numerous areas of sustainable and customer-focused business and process optimization, especially where systems, finance and corporate management are concerned.
OPTIMIZING BUSINESS
restructuring
turnaround
post-merger integration
working capital
start-up
OPTIMIZING PROCESSES
ERP (especially. SAP) & business intelligence
controlling and finance with focus on reporting
sales and purchasing organization
internal control & fraud prevention
INVESTMENTS
search of investors and capital provider
provision of sustainable investment opportunities
venture capital
OUR APPROACH
Our goal is to provide holisitc and long-term strengthening of the organization through optimization and growth projects. Independently if we undertake substantial or micro-interventions, we are guided by the following principles and become so a reliable partner for our customers.
AUTHENTICITY
Combine in the project highest professional and management competence with social and context competence as well as assuming social responsibility.
PARTICIPATION
Through value appreciation, respectful communication and participation as broad as possible uncover tremendous potential of the organization towards project objectives.
INTEREST
Penetrate in the organization to a higher level of knowledge, cooperation and motivation through interesting project work.
COMMITMENT & RESULTS ORIENTATION
High personal commitment and flexibility help us to achieve the project objectives together with our customers even in the most difficult situations and business stages.
Download our top business model transformation tool – the 3d business model transformation workbench
Looking inside
DR. MARKUS RESSL, zSPM
Founder of Ressolutions GmbH and experienced Senior Project Manager with expertise in many fields of process and business optimization, mostly in an international environment, particularly in Southeast Europe and North Africa.
Nearly two decades successful line and project management in the corporate environment, including post-merger integration management as an expatriate CFO / CEO of AGRANA in Belgium and Denmark with strategic business and process optimization supported by SAP and BI-implementation.
Details
CV, DR. MARKUS RESSL, zSPM
2014 Ressolutions GmbH
Company foundation, certification as a Senior Project Manager according to IPMA
Project management in the start-up and corporate environment
Lecturer at university of applied sciences bfi Vienna: Sales Controlling & Strategy
2011 Project Manager (AGRANA HQ, Vienna, Austria)
Working capital optimization, AGRANA Group: Savings > € 100 million
Contribution margin reporting
Controlling & BI-projects in business segment starch
2010 Parental Leave & research:
Post-merger integration management
2007 CEO, CFO (AGRANA business unit: Dirafrost ffi n.v., Belgium, > 800 employees)
Post-merger integration management
Implementation of full-scope SAP, management reporting and sales forecasting
Strategic repositioning
Process optimization in the Moroccan and Serbian subsidiaries
Optimization of the sales organization
Optimization of the purchasing process
New product development
2005 CFO (AGRANA Juice Denmark)
Post-merger integration management
Turnaround (EBIT + € 4 million)
Implementation of full-scope SAP & management reporting
Restructuring and M & A transactions
1998 Controlling & Internal Audit (RHI, AGRANA)
about 30 business and process optimization projects (focus: Southeast Europe)
Education
1989 / 1995 Vienna University of Economics and Business Administration: Master / PhD course with thesis on 'Economy of Communion'
1991 / 1992 Erasmus studies at ESSCA Business School, Angers, France
Languages
Working languages: German (mother tongue), English, French, Italian
Good basic knowledge of Dutch, Spanish, Portuguese
Married, 3 children || ski touring & windsurfing || activities for the common good
Cooperation partners
Our partners are characterized by excellent service in project management, management services and process optimization and share our approach to sustainable business development.
They complete, if necessary, the project work of Ressolutions by project resources, expertise and support in specific subject areas and in our focus areas.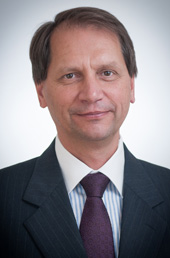 Tibor Hejj,
Managing Partner,
Proactive Management Consulting Kft.
www.p-m-c.hu
Top Level Management Consulting
Mergers & Acquisitions
Project resources
Focus region: Southeast Europe
Testimonial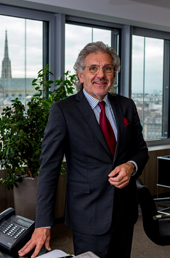 "In my time as Chief Financial Officer of AGRANA Group I followed along with my fellow board members a growth and diversification strategy. In these two decades, we have led the AGRANA Group from a local Austrian company into an international player with more than 8,000 employees and annual sales of € 3 billion. In this environment, I trusted M. Ressl many management tasks and projects in the field of process optimization, business optimization and post merger integration management. As a flexible and goal-oriented line and project manager M. Ressl was a reliable support especially in difficult and complex projects in an international environment.
Walter Grausam,
1995-2014 Chief Financial Officer of AGRANA Group
www.agrana.com
---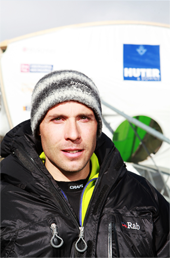 "We are developing an alternative to existing snowmaking equipment. This is more resource-saving and more energy-efficient. We are very happy that we have with Ressolutions GmbH found a reliable partner for sustainable corporate development and strategy. The vision is to cover 2024 40% of the total production of snow with our technology . We believe that with Dr. Markus Ressl we have found a reliable partner, precisely in order to achieve this vision."
Michael Bacher,
Founder and CEO of the start-up company Neuschnee GmbH
www.neuschnee.co.at // Video in german